This article is about the item. For the equipment in the third chapter of the first game, see Pipe Wrench.
The Mechanic's Wrench or simply The Wrench, is a tool mainly used for rotating nuts or bolts from machines.
Appearance
The wrench is a light tan color, and has a handle with crescent-shaped ends. Marks on the wrench imply that it is made of metal. The wrench is also strapped along with Boris clones around the studio.
Applications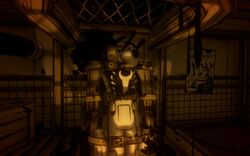 In Chapter 1: Moving Pictures, the wrench is one of six items Henry needs to collect for fixing the Ink Machine. The wrench can be found sticking out of a Boris clone's chest in the room next to the Break Room.
The wrench reappeared in the third and fifth chapter, but none of them can be obtained:
The wrench is one of the randomly generated supplies that Buddy Boris needs to collect before he heads to the next level.
Trivia
General
Chapter 1: Moving Pictures
Chapter 3: Rise and Fall
Misclanious
Audio
Gallery