"On the plus side, I got a new character I think people are going to love."
- Henry Stein
This article may contain unmarked details of
spoilers
. If you wish not to read without spoiling yourself, play the game, watch the cartoon, or read the book first, depending on the article's topic.
The Ventilation Shafts or simply The Vents, are a location from Chapter 4 of Bendy and the Ink Machine.
Background
The vents were used to ventilate various areas of Level S. They are a tricky maze of dark tunnels. Henry can enter them from the lounge & hideout and exit them from the Planning Room
Gameplay
Henry will pass through the lounge & hideout to reach an open vent with a flashlight next to it. Upon interacting with the flashlight, Henry will be taken into the vents, unable to go back. If Henry looks back, he can see two Lost Ones blocking his exit.
Henry has no choice but to proceed forward. After reaching the end of the first passage, a jumpscare of Ink Bendy will occur through a grating in the wall. he will briefly watch Henry, gesture for him to be quiet and move on. The player will reach a few dead ends and turns until the vent with two passages is reached. The furthest has a Lost One repeatedly slamming its head against a wall creating a loud banging noise that can be heard from far away. Henry must head through the other passage until he reaches the Planning Room and dropped the flashlight. Upon exiting, he can't re-enter.
Trivia
In the room which Ink Bendy appears in, if one cheats and glitches out of the vents, a Wandering Sin can be seen at the edge of the room.
The Lost One slamming his head against a wall is a reference to survival horror game, Dead Space.
Map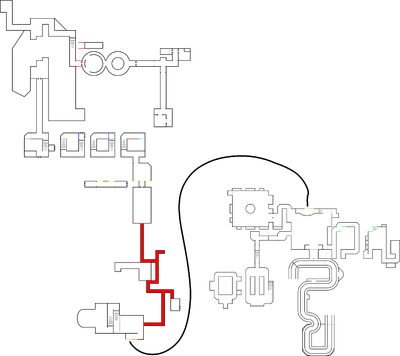 Gallery