The Trains are a group of characters appearing in one of the "promotional" Bendy comics strips.
General Description
Physical Appearance
Trains are living steam locomotives, each with their face on the smokebox door. There are three trains:
Bendy's train is a male with a very basic design. He has a cylinder nose and three passenger coaches.
The first female train has a triangle nose, rosy cheeks and white lips. She has heart shaped holes on her cow catcher and on the first and last coaches, acting as windows.
The second female train has a round black nose, black lipstick and a black tuft of hair. She has a flower drawn on her cow catcher and a pair of hearts on her buffers.
Personality
Although silent, the trains communicate by using their whistles to produce smoke fumes that form into words.
Role
They appeared in the comic remake of the Train Trouble cartoon. Bendy gets tasked with bringing Boswell Lotsabucks to Idahohiowa to sign a contract, but unfortunately for Bendy, his train gets distracted by a female locomotive, making him take the wrong paths. The female locomotives ends up ignoring Bendy's train, leaving him sad, but near the end of the comic, after Bowsell gets to his destination, another female locomotive shows interest in him, and so the comic ends with the train going after her, with Bendy chasing after him.
Trivia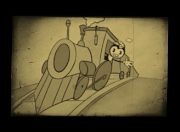 From the original cartoon, Bendy's train appeared as just an ordinary vehicle, therefore bearing no facial features whatsoever and lack feelings.
The trains seem to highly resemble the scooters from the Mickey Mouse short "Amore Motore".
None of the trains have funnels, instead being replaced with whistles, so it can be assumed that they are fireless locomotives.