See Toy (disambiguation) for other related uses.
This article is about the series of objects. For the item based on one of the toys, see Bendy Doll.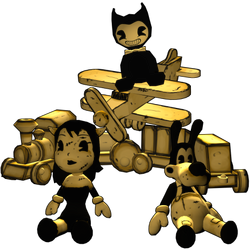 Toys are a series of objects produced by the Heavenly Toys factory meant for play. In Bendy and the Ink Machine, they are first introduced from Chapter 3.
There are three known dolls based on the cartoon characters - Bendy, Boris, and Alice Angel. All dolls come in many sizes.
Besides the dolls, there is also a toy train set and biplane. Other toys based on cartoons, comics, and other characters were also probably produced.
Gameplay
The toys are used as environment decorations for the Heavenly Toys room. Several broken toys are seen stuck in the belts of the toy machine room, preventing the said machine from working.
Many more dolls of Bendy, Boris, and Alice are seen stacked on multiple shelves of the toy storage of Level K.
The toys reappear in the fourth chapter in several locations. The Boris doll makes a noticeable appearance in the Haunted House, standing in front of a lamp, giving it a shadow that looks like the one of the real Boris or a Boris clone. A toy train is also on a desk in the Maintenance.
Trivia
Unlike their cartoon counterpart, the Alice Angel dolls lack halos and bow ties and the Bendy dolls lack gloves, while only Boris remains the same.
In Pascal Cleroux's videos showing the Projectionist's model, a moving toy train making train noises can be seen. This isn't intended to be added to the game.
According to Joey Drew Studios Employee Handbook, the toy trains were based on Train Trouble.
Gallery