The Throne Room, also known as The Demon's Lair, or Bendy's Lair, is an important location from Chapter 5 of Bendy and the Ink Machine. It is where Ink Bendy sat in solitude until his short, but gruesome transformation into a giant, hulking beast for the final showdown.
Background
The throne room is where Ink Bendy lived in reclusive seclusion when not stalking the hallways of Joey Drew Studios.
The throne is an old, slimy leather office chair with bent pipes, resembling horns, sticking out from the top corners. Placed on the end of the pipes are small, ink-dripping chains. The chair stands upon a large mound of ink, surrounded by multiple projectors displaying Bendy (The little devil's) cartoons. Joey Drew's final audio log is laying in the ink, alongside a reel holder. Three gears merged in the ink can be used to step up to the chair. In the throne, a reel labeled "The End" can be found and used in the reel holder next to the throne.
The room is large, and octagonal in shape, with lining the walls are several pipes and pistons. Several projector screens are suspended in the air by chains, displaying Bendy cartoons through the throne's projectors. The room is lit by a single, industrial lantern welded in the tall, pipe-riddled ceiling. The Ink Machine's lift mechanisms can be seen at the back of the room. However, despite the Ink Machine's lift deactivating moments earlier, they continue to run.
Gameplay
Henry enters the throne room through the giant Ink Machine. Upon playing the audio log submerged in the ink, Joey Drew will tell Henry that he can still set everybody free and stop Ink Bendy, who appears behind the throne moments after. He then undergoes a short, yet hideous transformation into his final and most terrifying form. He then tosses Henry into the bowels of the Ink Machine, beginning the final boss battle.
After a long battle, Henry puts the "The End" reel in the reel holder, finishing off Beast Bendy and everything around him.
Map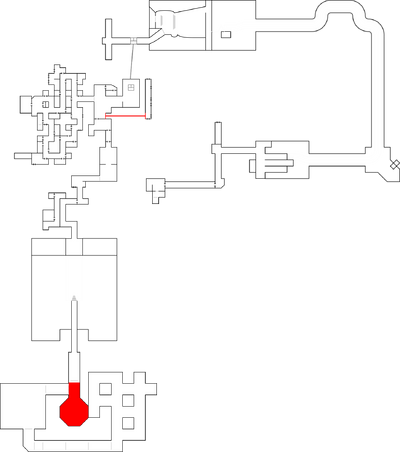 Audio
Trivia
It is confirmed in the Joey Drew Studios Official Handbook that the office chair that makes up the seat of Ink Bendy's throne once belonged to Joey.
Gallery