"Take the lift down. Say hello to an old friend."
Be aware. This article may contain spoilers that remain unmarked! Details follow, so read at your own risk.
Tom
has other meanings. See Tom (disambiguation) for other uses.
"I keep telling these people, if Mister Joey Drew keeps cutting corners like this, someone's sure to end up falling to their death. And it sure ain't gonna be me."
— Thomas Connor's second audio log,
Bendy and the Ink Machine: Chapter 3
Thomas Connor is a gruff-voiced repairman associated with the Gent company and the husband of Allison Pendle, with his audio log only appearing in Chapter 1, 3, and later in Chapter 5 of Bendy and the Ink Machine. A worker tasked with making sure the endless piping of the Ink Machine stays in top form, he becomes frustrated with how unstable the system is as time goes on.
He is revealed to be transformed into a caricature of Boris the Wolf by the name of Tom for unknown circumstances, evidenced by himself and Allison Angel (Allison Pendle) accompanied together at all times along with one of the ink-drawn doodles seen in the prison area depicting Tom and Allison Angel holding hands to signify the fact that they are married couples.
Personality
A master at his craft, Thomas is a disgruntled, ill-tempered, no-nonsense repairman, with trust issues, as evidenced by his conversation with Wally Franks in Chapter 3. In his audio recordings, his tone suggests that he is fed up about struggling against the workings of the Ink Machine for quite a long time, eventually declaring that he refuses to do anything more about it. He is also fed up about the elevator's functionality issues, as evidenced by his solo recording in Chapter 3. Despite his volatile disposition, he is shown to be a hard worker and a careful observer, as revealed in his report-of-sorts to the Gent Corporation's as-of-yet unseen flagship headquarters. According to a letter from Allison Connor (Allison Pendle) at the end of Chapter 5, Thomas Connor is shown to be easily frustrated upon finding out that one of his old contraptions had been stolen by an unidentified assailant. In terms of social skills, he had hardly a kind word for anyone, save for his superiors at Gent and Allison Pendle.
Main Appearances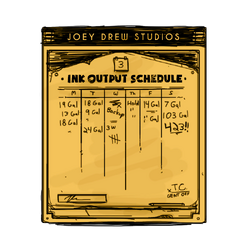 Thomas' name is first mentioned in his "ink output" signature by his short signature "T.C." above the "GENT OFF" message. According to his schedule, Thomas works every week but Sundays while outputting gallons of ink one by one;
On Monday, he output 19, 13, and then 18 gallons of ink.
On Tuesday, he output 18, 9, and 24 gallons of ink.
On Wednesday, there are no recorded numbers of ink gallons. Nothing else than a "back up".
On Thursday, same result as yesterday on Wednesday, saying with "hold".
On Friday, he output 14 gallons of ink. He also did output another gallon of ink, but the number amount was not recorded.
On Saturday, finally, he output 7, 103, and astonishingly huge 423 gallons of ink.
Thomas' audio log is found on the shelves in the first floor of the basement after draining the ink for the first time. In Thomas' tape, he complains about the endless floods of ink contaminating the structure of Joey Drew Studios, remarking that the pipes simply can't hold the volume. He also thinks that the Ink Machine, and all the things that have happened because of it, just does not seem natural. He declares that he will no longer do any more repair work for Joey.
The first appearance of Thomas in the third chapter is in a duo dialogue log where Thomas explained to Wally Franks (unsuccessfully) what to do when the ink pressure reaches over 45, seemingly impatient and frustrated about both the confusion and Wally's misunderstanding about what to do in relation of the ink pressure. In the end, Wally then aggravatingly declares if he has to do his own work as well as Thomas', he will leave.
Thomas' second audio log is found on a shelf near the bottom of stairs after Henry walks out of the lift on Level 9. In the tape, he complains that the elevators are yet another device that keeps breaking down. He assumes that it is because Joey was cutting corners to keep the Ink Machine going and warns that someone will fall to their death if not changed. At the end of the tape, he says that he would not be that "someone" and will therefore take the stairs.
Thomas's third and final audio log can be found inside the room on the right side of the pipe puzzle. In this log, he is making a progress report to Gent Home Office, stating that their client's expectations keep changing, despite making progress with the Ink Machine's ability to create realistic cartoon characters. He then states that the machine is now teetering on "the edge of magic" compared to proper engineering, though Joey is convinced that magic and engineering are the same thing. He then reports that progress with the film reels being used by the Ink Machine to create the characters is so far going well, and they had several near-successes. Thomas reveals that the first ever creation of the Ink Machine was in fact a failed attempt to create a real-life version of Bendy, and no one at Gent has ever attempted a second try.
At the end of his audio log, Thomas reveals that he feels something "unworldly" about the failed first attempt.
A letter from Allison Pendle reveals that an opportunistic thief somehow broke into Joey Drew Studios and stole one of Thomas' inventions, much to his anger.
Cartoon Appearances
---
This section contains non-canonical source, and is not considered as an official part of the series or the overall plotline.
---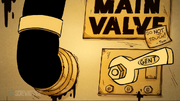 Although not appearing in the
Bendy
/
Cuphead
crossover fight cartoon physically, Thomas' name (as Tom) is mentioned in his note that was reminding the readers not to touch the main valve.
Dialogue
The following information contains spoilers. To view them, click the [show] tag.
---
Chapter 1: Moving Pictures

"It's dark and it's cold and it's stuck in behind every single wall now. In some places, I swear this godforsaken ink is clear up to my knees! Who ever thought that these crummy pipes could hold up under this kind of strain either knows something about pressure I don't, or he's some kind of idiot. But the real worst part about all this.. are them noises the system makes. Like a dying dog on its last legs. Make no mistake, this place... this... machine... heck, this whole darn thing... it just isn't natural. You can bet, I won't be doing any more repair jobs for Mister Joey Drew."
— Thomas' 1st audio log.
Chapter 3: Rise and Fall
" Wally: Alright let's go over this again. If the pressure goes over 45, I screw the safety bolt in tighter, right?
Thomas: No! For the last time, you do that, you'll blow every pipe in this place! If it reaches 45, you unhook the safety switch.
Wally: You sure? You know, this sounds harder than comparing ear wax to bee's wax!
Thomas: Look, it's not that difficult! Just keep an eye on the gauge!
Wally: Look pal, if you think I'm doing my job AND yours, I'm outta here!''"
— Wally and Thomas' audio log.
"These blasted elevators... sometimes they open... sometimes they don't... sometimes they come... sometimes they keep on going to Hell and back. I keep telling these people, if Mister Joey Drew keeps cutting corners like this, someone's sure to end up falling to their death. And it sure ain't gonna be me. I'm taking the stairs."
— Thomas' 2nd audio log.
Chapter 5: The Last Reel

"Progress report to Gent Home Office. Client: Joey Drew Studios. Although we're making progress, the client's expectations keep changing. What started as a machine to simply mold life-size figures, now seems to be teetering on the edge of magic more than engineering. Although Mr. Drew remains convinced they're the same thing. The process of running the cartoon film through the machine for the figures to imprint upon themselves is going well. We've had several near successes. One weird note: the first figure ever created was a failed attempt in the likeness of the character called "Bendy". Since that time, no other attempts of this particular figure have emerged. And the one that did... I don't know, there's just something unworldly about him."
— Thomas' 3rd audio log.
"So we're looking at quite the job here! Walls come out, pipes go in... dang walls go back in again! It's like banging your head on a rock over and over and over. The first time, it hurts to heck. The hundredth time, well... you just don't think much about it. That's what it's like working for Mr. Joey Drew. At first you feel that bad pain in your gut that you're doing something very wrong. But after a time, when the dust settles, and Joey had played his cards, you just learn to go with it. Bit of your soul dies with each pipe you put in."
— Audio log, dated November 12th, 1943, by Thomas Connor.
Trivia
General

Chapter 1: Moving Pictures
Thomas' first audio log was not in the earlier versions of Chapter 1 and was added later in the Chapter 3 update.

His "ink output" schedule was not added until Chapter 4's release.

The transcript of Thomas' recording in Chapter 1 has multiple spacing errors. It has multiple lacks of space after the punctuation. This was later fixed upon Chapter 4's release.
Chapter 3: Rise and Fall

Before the release of Chapter 4, there was no audio log for Wally and Thomas' due to the trailer room not being implemented at the time.

Thomas and Wally are the only workers that have been shown socializing through an audio log.
Gallery
References