The Viewing Theater or simply, The Theater is a room from Chapter 1: Moving Pictures of Bendy and the Ink Machine. It serves as the room where the player can activate the ink flow for the puzzle.
Background
The theater is where a finished Bendy cartoon would be test-screened to the staff of Joey Drew Studios to predict how the cartoon in question would fare among the general public.
The theater is a small room that contains two rows of chairs that are neatly aligned. To the left of the second row of chairs is a projector. There is also a large shelf on the right wall, and a screen to project film.
Gameplay
At the beginning of the game, this room is one of the explorable rooms for Henry to find. The Bendy doll is localized on a chair of this room.
Later on, it is necessary to come back to the room to turn on the ink pressure. A Bendy cutout will jumpscare the player when they enter the room after collecting all six items.
After completing the puzzle, the projector will be automatically turned on as Henry enters the room, and the large screen located in this room will play a small, looped dancing Bendy animation along with Bendy's whistle will play.
Once he finishes collecting all six items, Henry is required to turn the valve on the "INK PRESSURE" machine, allowing the ink to flow through the pipes before activating the Ink Machine and causing the pipe to burst and get the room flooded with ink.
Trivia
In the prototype version of Chapter 1, the music that plays when the projector is turned on was "Hellfire Follies", and in the two next versions it was "

You Left Me in a Heartbeat

".
From the previous updates, the room lacks a small stair and the area appears not lowered.

The room also lacks the feature of having the pipe bursts and flooding the room after activating the ink pressure.
Map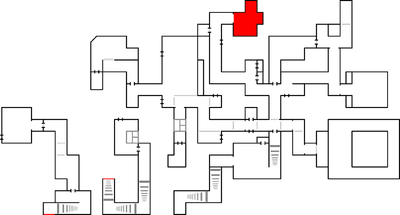 Audio