Raise a Floppa - The Loop
Play Sound

"On the plus side, I got a new character I think people are going to love."
- Henry Stein
This article may contain unmarked details of
spoilers
. If you wish not to read without spoiling yourself, play the game, watch the cartoon, or read the book first, depending on the article's topic.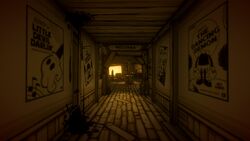 "Descending deeper into this world of aging, yellowing madness."
— Dreams Come to Life, page 296
The Cycle is the main setting of Bendy and the Ink Machine, Bendy and the Dark Revival, and Boris and the Dark Survival. It is a dimension-like realm that serves as a "story", which whether it is true or not if Joey Drew himself created this world remains a mystery.
Background
The cycle itself is a massive intermixture of rooms, areas, and corridors from establishments and companies: Joey Drew Studios, Gent, Heavenly Toys, Bendy Land, and few others. All layouts, textures, and environments within appear to be sketched, giving the entire realm itself a cartoony-like appearance. To look more vintage in atmosphere, the world's color is entirely sepia, shaded with lighter or darker tints of yellow, tan, orange, and brown, depending on the location Henry is in.
History
The Cycle is where the victims stay for possible eternity, with it being revealed to be an endless cycle through the Seeing Tool when using it to explore the game's Secret Messages when replaying the game.
It's implied through teasers that Audrey, during Bendy and the Dark Revival, will either break the cycle or be trapped forever inside.
Maps
The following information contains spoilers. To view them, click the [show] tag.
---
Audio
Gallery