See Stairs (disambiguation) for other related uses.
The Spiral Stairway is the second huge location on Level S in Chapter 4 of Bendy and the Ink Machine.
Background
This is the room that Henry enters after crossing the chasm in the cavern. It is also where he first hears Twisted Alice's voice, taunting him.
Gameplay
Henry enters this room after crossing the vast pit using the cable car from the other side. He is greeted by a long passage. After about 3 steps, a horror vision will occur, showing a distorted view of the area with hands grabbing at the player from the walls. 5 seconds later it will be over and the player will catch a quick glimpse of the Ink Machine descending even further down into the caverns. Henry will reach the spiral stairway after seeing this.
Twisted Alice will speak to Henry and taunting upon his entrance, saying these words: 'I see you there my little errand boy. Your Angel is always watching. What is it that keeps you going? Is it the thrill of the hunt? The thirst for your freedom? Or perhaps... you're just looking for a little, friendly, wolf.... Better hurry, errand boy. Boris is having trouble staying in one piece.' By this time, Henry would have passed a Bendy statue, a few shelves and candles and some pipes. On one of these shelves is a can of Bacon Soup. Henry will reach the top and then enter the lounge & hideout.
Trivia
On one of the next higher stairways, if Henry falls off from the door bridge and lands onto the floor, it will result in minimal damage.
You can get to the brown door in the back without hacks.
Map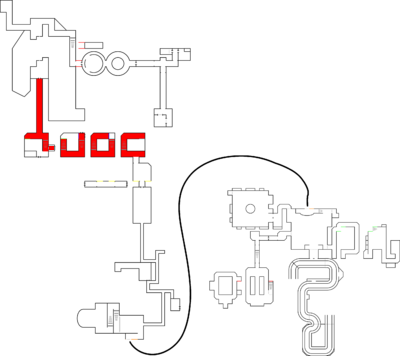 Gallery