No Man's Sky Update - The Loop
Play Sound

"And if he really wants to be so helpful, he could be tellin' me what I'm to be doin' with this warehouse I got full of that angel whatchamacallit." - Shawn Flynn
The
Small Office
page does not have a canonical name. This name will be used until the official name is confirmed.
See Office (disambiguation) for other related uses.
The Small Office is a location from Chapter 1 of Bendy and the Ink Machine.
Background
The room consists of a desk with a music radio, a chair, a music note picture, and a Sheep Songs poster. There are two cans of Bacon Soup located on the shelf to the right.
Gameplay
The room's door is found in between the hallways leading to the Ink Machine's room and the workroom and it can be only accessible when starting the puzzle of searching items. Shortly after visiting the break room before opening the small room's door, Henry may notice that the light from under the room's door turns off.
There is a music radio on the desk. Clicking on the radio plays an instrumental and shortened version of "Bendy and the Ink Machine Song" by Kyle Allen earning the achievement of "Crooner Tuner".
Trivia
The small office was not featured in Chapter 1's prototype.
If Henry is to teleport to this room after falling through into the basement while hacking, the wall from the right side of the room disappears.

This probably happens to save memory.

After the Chapter 4 update, the record can always be found underneath the desk.
Also after the Chapter 4 update, there is a writing on the desk that says "He will set us free". This is the same message from Chapter 2 and Chapter 4.
Map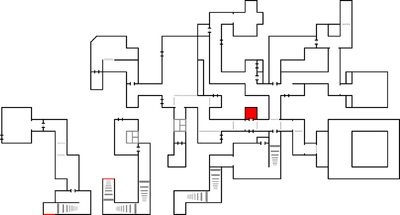 Audio
Gallery