"And if he really wants to be so helpful, he could be tellin' me what I'm to be doin' with this warehouse I got full of that angel whatchamacallit." - Shawn Flynn
The
Skeleton
page does not have a canonical name. This name will be used until the official name is confirmed.
The skeleton is a background cartoon character who appeared as the main antagonist in the Bendy cartoon Tombstone Picnic and few published comics.
General Description
Physical Appearance
They are nothing more than a white human skeleton in the show's cartoon style, and whenever the skeleton moves they make noises that are similar to the sound of bones rattling. Their torso is only visible from throughout the cartoon.
The skeleton has eye-sockets instead of pie eyes. Illogically, the eye-sockets can move, this is shown when they wink at Bendy after their first meeting.
Personality
Although very little is known about their personality, though it appears that the skeleton is playfully bothering Bendy for some reason.
Cartoon Appearances
From the very beginning of this cartoon, the skeleton's hand slowly rises from the soil and quickly grabs Bendy's ankle, causing him to fall down and throw his picnic basket. A few seconds later during Bendy's struggle of letting himself go, the skeleton pops out from the ground. Letting go of Bendy's ankle afterward, the skeleton winks at Bendy before going back to their "grave" by pulling the ground over itself like a blanket.
After Bendy runs away from Boris, he hides behind a gravestone from the cemetery. He peeks out to look out for Boris, before the skeleton "helps" him. Both were shocked looking at each other, then Bendy runs away from the skeleton.
Sightings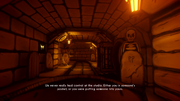 Trivia
The skeleton seems to be heavily based on the skeleton characters from the 1929 Silly Symphony short "The Skeleton Dance", and the character in Flip the Frog's 1932 cartoon "Spooks".
The skeleton appeared in the Crack-Up Comics Collection book's intro page for the syndicated comic strips, however they were never seen anywhere in such comics. There is a scrapped comic for Tombstone Picnic, but it was only used as merely a testing board.
Gallery