Boris' Safehouse, or simply The Safehouse is the starting location in Chapter 3: Rise and Fall from Bendy and the Ink Machine and works as a hub in Boris and the Dark Survival.
Background
This location is based on an actual house, containing a bedroom, kitchen, restroom, and a living room. From the hall between the doors leading to the bathroom and the living room are overalls, pants, and a pair of boxer shorts hanging on the wall, although they do not belong to either Henry or Buddy Boris. It is currently unknown how Henry and Buddy Boris got into the safe house.
Gameplay
The chapter begins with Henry rising from an army folding bed in the back of the safehouse. Henry tries to leave the safe house to find another exit. This is prompted with the door lever missing and Henry saying they should go talk to Buddy Boris about it, who is sitting next to the table of the living room. Buddy Boris holds the door lever hostage until Henry makes him some Bacon Soup. Henry must find three cans of bacon soup and prepare them in the pot on the stove. Once it is done, a bowl can be taken to Buddy Boris, who sets down a toolbox on the table. Opening it will reveal that it contains the door lever. Henry must now take it and open the door. Once he opens the door, Buddy Boris can be seen getting out of his seat and then following Henry for the rest of the game toward the end of the chapter.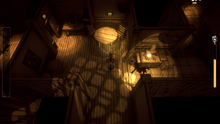 Safehouse works as a start location in Boris and the Dark Survival and is the only room that isn't randomized. Its purpose is being a hub for a player. The design of the safehouse changed a little since Bendy and the Ink Machine, but the main layout remains the same. After collecting 7 cutout pieces that'll appear in this room, the player will see the cutscene for the former self of Daniel Lewek.
It's also the place where Buddy Boris can take his miner hat (during the game tutorial) and his special bone (after being found in one of the lockers). During the Wolf Trails update, a new section of the safehouse has been added with a minigame and an audio recorder that has five recordings of Milla. A door with a sign labeled HELP needs to be unlocked with a Bendy key.
Trivia
Map
Audio
Gallery