The S3 Vault, also known as The S3 Room or simply The Doll Room, is the final location of Chapter 2 in Bendy and the Ink Machine.
Background
The S3 vault serves as a spare storage area, whenever the main toy storage area was at full capacity.
In the first room, it consists of three machines from the left. From the right side, it contains a few shelves filled with Bendy dolls, even though they are not obtainable.
There is also a single can of Bacon Soup found on top of a barrel.
Gameplay
When Henry arrives at this room and locks the door after escaping from Ink Bendy pursuits at the corridor maze, as he rounds a corner, the player is not able to move. A can of Bacon Soup rolls out, and Buddy Boris walks into view, turning to look at Henry.
The chapter ends at this point, and Henry is heard saying "Boris?" before proceeding to Chapter 3. Starting at the next location, Safehouse.
Trivia
There seems to be a lift located here as seen in the room with a sign.
From Chapter 2's pre-update before Chapter 3's release, the player is not able to pause the game upon entering this room.

There is a sign for the location under the door to the other room from Chapter 2's pre-update. The sign was removed upon Chapter 3's release.
It is not possible to run in this location or pausing the game.

This room is not the starting location of Chapter 3. Unlike the end of Chapter 1 and beginning of Chapter 3, making it unknown how Henry got into the safehouse.
There was a "Wandering Sin" cutout in the hall where Buddy Boris comes from but was removed in Chapter 4's update.
Map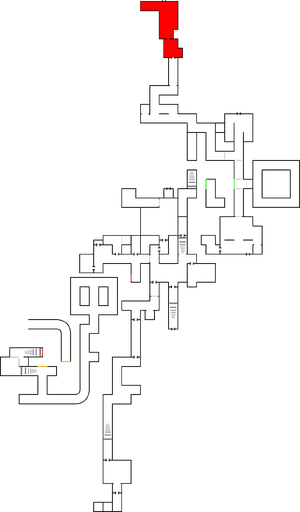 Audio