"I'd run around the neighborhood, collecting discarded newspapers, hoping to read the latest Popeye and Dick Tracey. I even started drawing comics, making up adventures with Olive Oyl, Pruneface, Sparkle Plenty."
— Buddy Lewek, Dreams Come to Life, page 6
A list of
fictional characters
based from cartoons, comics, books, etc., from the real-world outside of the
Bendy
universe. So far, the
Popeye
and
Dick Tracey
characters are mentioned in the
Dreams Come to Life
novel by
Daniel "Buddy" Lewek
when he's collecting discarded newspapers around the neighborhood to seek for any latest favorite cartoon strips or comics, and even drawing crossover comics of characters. Curious George is also mentioned in one of the picture books collected by
Buddy's grandfather
in the library.
Popeye
Popeye the Sailor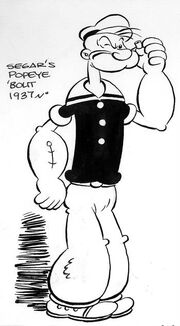 Popeye is a cartoon character who first appeared in the daily King Features comic strip Thimble Theatre on January 17, 1929, created by Elzie Crisler Segar. One of the most popular cartoon characters through the ages, Popeye has later appeared in the animated cartoons debuting in 1933 by Max Fleischer.
Olive Oyl
Olive Oyl is a character and Popeye's girlfriend from Elzie Crisler Segar's 1919 comic strips Thimble Theatre and the animated cartoon series by Fleischer Studios. Template:Clear
Dick Tracey
Dick Tracey
Dick Tracey is a police detective and a titular character in the media of the same name in his 1931 debut from the comic strips by Chester Gould.
Pruneface
Pruneface is a high-ranking Nazi saboteur with a noticeably deep-wrinkled face. He is one of the main villains in the Dick Tracey media.
Sparkle Plenty
Sparkle Plenty is a daughter of B.O. Plenty and Gravel Gertie from the Dick Tracey comic strip.
Miscellaneous
Curious George
Curious George is a chimpanzee protagonist from a series of popular children's books of the same name, written by Hans Augusto Reyersbach (often credited as "H. A Rey") and his wife Margret Rey, with illustrations by Alan J. Shalleck.
Community content is available under
CC-BY-SA
unless otherwise noted.