This page lists content containing pre-released materials, showing the early designs for the game with teasers, videos, etc.
Monsters
Ink Bendy in his beta form originally slowly tore off the boards when emerging from behind the ink machine during Chapter 1. Afterwards, a door shuts down immediately.
Locations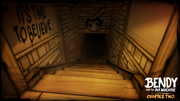 From the first teaser for
Chapter 2
, the location utility shaft 9 had a way different entrance such as:
A Bendy face.
"IT'S TIME TO BELIEVE" message.
 A different layout of the floor.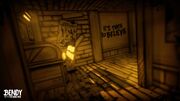 As seen in the fourth teaser for Chapter 2, the music writing room was also going to have one of its walls be printed with the "
IT'S TIME TO BELIEVE
" message.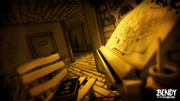 From one of Chapter 1's remastered screenshots, MaxInkly's fan-art of Bendy's "expression" sheet was originally going to be used for the desk from the mini workroom, but it was immediately reverted.