This article is about the location. For its minigame for gameplay details, see Pool.
The Pool Room or Billiard Room is a small room in Chapter 2: The Old Song of Bendy and the Ink Machine. It is located next to Alice Angel's Sent From Above poster. Inside, there is a pool table to play for a small minigame.
Background
The pool room serves as a sort of recreation area for the studio employees, although there are oddly no chalks or cues in the room itself.
This room has a pool table, a gate, pipes, crates, music sheet stands, and barrels. There is also Bendy's Bacon Soup advertisement poster inside the room as well as a shutter.
Gameplay
The room is only accessible after killing the first wave of Searchers from the Music Department hall. There is nothing noteworthy in this room, except Henry can play pool by clicking on one of the balls to move them to the pockets.
Trivia
Map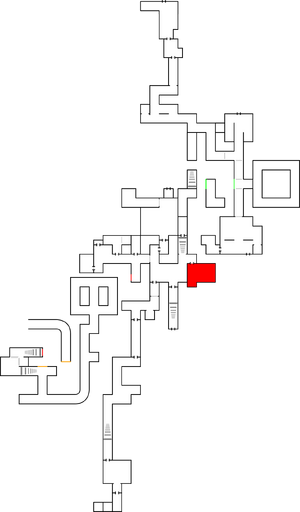 Gallery