"It's really dark in here."
— Henry upon entering the dark Music Department hall,
Bendy and the Ink Machine: Chapter 2
Old Light Head is the 29th track for Bendy and the Ink Machine, used for Chapter 2 and 4. It was written by theMeatly.
Description
The music is dark, with whispering voices and even a brief violin. In Chapter 4, the song is made not to scare the player, but to build up tension for encountering the Projectionist.
Usage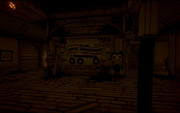 The track plays upon entering the darkened Music Department hall.
The music track returns in Chapter 4 and will play when entering the Maintenance room, where Henry spots the Projectionist.
Trivia
The name of the song is a reference to the Projectionist.