"On the plus side, I got a new character I think people are going to love."
- Henry Stein
This article may contain unmarked details of
spoilers
. If you wish not to read without spoiling yourself, play the game, watch the cartoon, or read the book first, depending on the article's topic.
See Office (disambiguation) or Sammy (disambiguation) for other related uses.
"Joey's solution? An ink pump to drain it periodically. Now I have this ugly pump switch right in my office. People in and out all day."
— Sammy Lawrence's second audio log,
Bendy and the Ink Machine: Chapter 2
Office of Sammy Lawrence, also known as Sammy Lawrence's Office or simply Sammy's Office is a location from Chapter 2 of Bendy and the Ink Machine. It is the office owned by Sammy Lawrence, where he wrote the music and ditties for the Bendy cartoons.
Background
Sammy's office consists a sign above the outside window. Inside is a switch that says "PUMP CONTROL" and a desk to the right of the room. On the desk is a radio that can be activated.
Outside from the office's entrance, there is a Bendy cutout, a pair of posters, and Wally Franks' second audio log located on top of the shelf. There are also few pipes spilling a load of ink at the door and both are disabled when all two ink flow valves are activated. Away from the office and next to the closet is the punch card stand.
Gameplay
The office is found at the back of the hallway. Sammy's office is necessary for the completion of Chapter 2, when Henry first comes here he will note that he needs to drain the ink leak in front of the door. After draining it via the switch from Sammy's sanctuary and inside the infirmary, Henry is able to come back and enter the office and pull off the pump switch, allowing himself to take the stairs and escape from the underground through the exit door, before he can go there, only to be knocked out by Sammy himself in his corrupted form, before being dragged into the sacrifice room as an offering to Ink Bendy.
Trivia
If the radio is interacted with, it will play a modified, shortened instrumental of "Build Our Machine", a popular fan song made by DAGames.
From Chapter 2's first release before Chapter 3 came out, the office can be only opened when activating one ink flow from Sammy's sanctuary while the second flow valve was not added yet.

The broken pipes next to the office's door, the window screen, and the punch card stand are not featured as well.
A Searcher used to spawn outside of the office's entrance before Henry walks any further for doing Sammy's music puzzle.
Map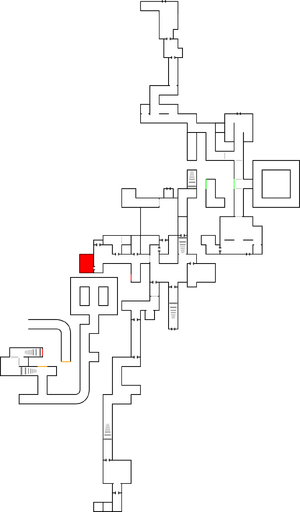 Audio