See Office (disambiguation) for other related uses.
The Management Office, also known as The Accounting Office or Grant Cohen's Office, is one of the rooms from Chapter 4: Colossal Wonders of Bendy and the Ink Machine. This was where Grant Cohen, oversaw and managed the budgets and taxes, and where his corruption into an ink monster occurred, or at least, was recorded.
Background
There are ink messages drawn on the room's walls that regarding taxes, money, etc.
There is an audio log on Grant's desk, which has a recording of Grant's transformation into an ink monster.
Gameplay
The Management Office is located from the right-side hallway within the Accounting & Finance area on Level S, from the right door at the end. This is where the missing turnwheel is located, found in the damaged wall. Although it was not obtainable until Henry Stein checks the locked door of the Archives, which requires the turnwheel to open.
Trivia
The transcript for Grant's audio log reads "Voice of Unknown" and is said to be indiscernible instead of his actual name and transcript, due to consisting sounds of muffling, slight painful wails, and few other noises. This created controversy about whoever recorded this audio log. However, by looking into the audio's file, the file name is "CH4_AudioLog_grant_transformation_TEMP.ogg", giving the described evidence that the disturbing recorded sound was actually coming from Grant himself during his transformation into an ink creature.
The writings on the walls may be a reference to Stanley Kubrick's horror film The Shining when the walls in the hotel's lobby have "All work and no play makes Jack a dull boy" all over them.
The disembodied whispers will be heard briefly upon opening the office's door.
Map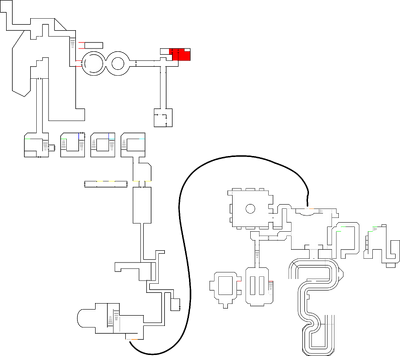 Audio
Gallery