No Man's Sky Update - The Loop
Play Sound

"On the plus side, I got a new character I think people are going to love."
- Henry Stein
This article may contain unmarked details of
spoilers
. If you wish not to read without spoiling yourself, play the game, watch the cartoon, or read the book first, depending on the article's topic.
The Lounge & Hideout are locations on Level S in Chapter 4 of Bendy and the Ink Machine.
Background
The lounge was built as a sort of break room for Bendy Land construction workers in between shifts.
This is the room Henry enters after ascending the spiral stairway. He encounters the large group of Lost Ones inside.
Gameplay
After ascending the spiral stairway, Henry will enter a lounge area. At first sight, all will appear normal. Then a gramophone will play the tune, "Nobody Knows the Trouble I've Seen" and a Lost One will stumble onto the balcony, sobbing about how someone was hunting him down and how he longed to return home before wandering out of sight and through a door. There is a Little Miracle Station here, despite having no actual use. There is also a chest with a can of Bacon Soup and a miner's hat.
Henry will then proceed to the hideout. Upon opening the door, Henry will be greeted by at least twenty five forlorn Lost Ones. As he passes through the ink-covered hideout, he will pass Lost Ones in cages and huddling together on the floor. On the walls, there are messages such as "HE WILL SET US FREE" and most prominently "NO ANGELS". Henry will reach an open vent and see a flashlight. In the corner is a Lost One crying next to a makeshift candle. Upon entering the vent by obtaining the flashlight, Henry cannot return, as he is blocked by two Lost Ones mournfully watching him as soon as he enters the vents.
Trivia
There is a hidden can of Bacon Soup in a chest in the first room.
If one hacks back into the lounge after going into the vents, all the Lost Ones that were there would not show.
Map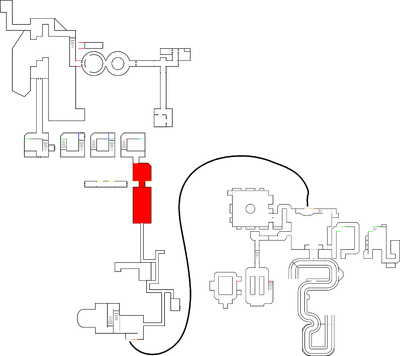 Gallery