Raise a Floppa - The Loop
Play Sound
Inktober is an ink art event to participate in for the whole month of October every year.
Prompt List
2019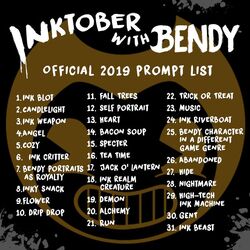 Ran from October 1, 2019 to October 31, 2019.[1]
Ink Blot
Candlelight
Ink Weapon
Angel
Cozy
Ink Critter
Bendy Portraits as Royalty
Ink Snack
Flower
Drip Drop
Fall Trees
Self Portrait
Heart
Specter
Tea Time
Jack 'O Lantern
Ink Realm Creature
Demon
Alchemy
Run
Trick or Treat
Music
Ink Riverboat
Bendy Character in a Different Game Genre
Abandoned
Hide
Nightmare
High-Tech Ink Machine
Ink Beast
2020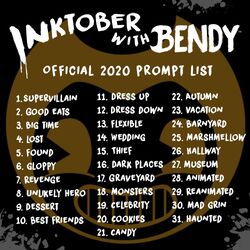 Ran from October 1, 2020 to October 31, 2020.[2]
Supervillain
Good Eats
Big Time
Lost
Found
Gloppy
Revenge
Unlikely Hero
Dessert
Best Friends
Dress Up
Dress Down
Flexible
Wedding
Thief
Dark Places
Graveyard
Monsters
Celebrity
Cookies
Candy
Autumn
Vacation
Barnyard
Marshmallow
Hallway
Museum
Animated
Reanimated
Mad Grin
Haunted
Trivia
Belden Pham, one of the ex-members of Kindly Beast, shows off his take on the "Ink Critter" prompt.[3]
References
↑ "What better way to celebrate #inktober than with the ink demon himself? Here are our prompts for #Bendy Inktober! Follow the prompts each day for the month of October! #BATIM" - Bendy. September 29, 2019. Twitter.
↑ "Get your inkwell ready! Tomorrow starts #INKTOBER with #BENDY!" - Bendy. September 30, 2020. Twitter.