See Ink (disambiguation) or Toy (disambiguation) for other related uses.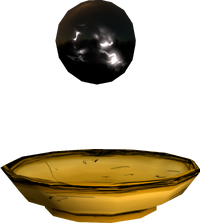 The ink toy is a minor interactive object from Chapter 3: Rise and Fall of Bendy and the Ink Machine.
Description
It is a toy made out of a slimy, ink-like substance. It is placed on an ink-stained bowl. Pressing "E" on the toy will cause it to change forms in the following order - Bendy, Boris, Alice Angel, the Ink Machine, and then the cycle repeats.
Gameplay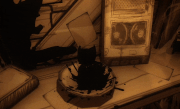 The ink toy is located inside the toy machine room next to Shawn Flynn's audio log.
The ink toy plays a vital role in this chapter, depending on Henry's choice.
Ink Machine - Obtaining the Tommy gun. Henry must change the ink toy the Ink Machine's shape and take the demon route without dying after choosing the "demon" path room. If successful, Henry will obtain the Tommy gun at the final fetch quest for Twisted Alice.
Boris - Unlocking the enemy fight challenge from the Heavenly Toys room. Change the ink toy into a Boris plush's shape before taking the angel route after choosing the "angel" path room, and complete all fetch quests without dying from the enemies' attacks. Note that Henry must break the boards off from the door to the blocked room on Level 9 where another axe should be located during the quest on finding and destroying the Bendy cutouts and save it later on before doing a final fetch quest on navigating the ink hearts.
Trivia
On rare occasions, while changing the ink toy into shapes, it can turn into a skull for a split second instead of a sphere.
Prior to the enhanced update patch upon Chapter 4's release, the enemy fight challenge remained freely unlockable without shifting the ink toy to a Boris doll.
The Ink Machine that is shown when morphing the ink toy is the beta version of the Ink Machine prior to Chapter 4's release.
Audio
| Description | Audio |
| --- | --- |
| The sound produced when interacting with the ink toy. | |
Gallery
Community content is available under
CC-BY-SA
unless otherwise noted.