"Thanks, Joey. Just what I needed. More distractions. These stupid cartoon songs don't write themselves, you know."
- Sammy Lawrence
This article is a
stub
. It is either incomplete with some lack of content and/or images, or under 1,000 bytes. You can help the
Bendy Wiki
by
expanding it
.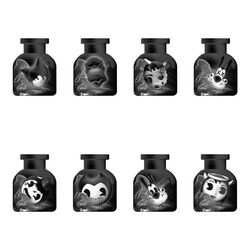 Ink slime is a product created by PhatMojo and it has a variety of Bendy characters' heads within it that can be found within each container of "slime". The part is that the thickness of it combined with its glossy sticky black tone, making it have the appearance of actual ink. If taking the label off that tells which characters are available to get then it also looks like an actual ink bottle from the game, minus the word of "ink" spread across it.
Some of the heads seen on the ink slime's containers include characters such as Ink Bendy, Searcher, Twisted Alice, Boris clone, Sammy Lawrence, Bendy, Boris, and Alice Angel.
Gallery
Community content is available under
CC-BY-SA
unless otherwise noted.