No Man's Sky Update - The Loop
Play Sound

"On the plus side, I got a new character I think people are going to love."
- Henry Stein
This article may contain unmarked details of
spoilers
. If you wish not to read without spoiling yourself, play the game, watch the cartoon, or read the book first, depending on the article's topic.
See Ink (disambiguation) for other related uses.
This article is about the location. For the soundtrack, see The Ink River.
The Ink River is a location from Chapter 5 of Bendy and the Ink Machine.
Background
The background of the ink river mainly consists of brick tunnels, with occasional ink pipes and gears about the ceiling. The ground is flooded with ink, making travel through this area on foot impossible. Barrels are strewn about the river.
Gameplay
Within the ink river, Henry must pilot a Barge through the tunnels by holding down on the throttle of the barge. After a short while, Henry will come upon a landing, at which time the barge's paddlewheel will become jammed with thick ink.
Henry must use the Gent pipe to smack the ink out of the paddlewheel. Before this can be accomplished, however, a Giant Hand will emerge from within the river, drag another barge into the river, then attempt to take Henry's barge as well. Henry must quickly unclog the paddlewheel and start the throttle before the hand can grab the barge, which will result in instant death. This situation continues until Henry's barge reaches the Lost Harbor.
Map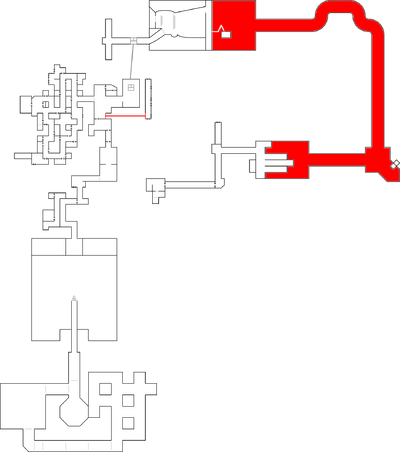 Gallery