See Ink (disambiguation) or Machine (disambiguation) for other related uses.
The Ink Machine Pump Station, also known as The Pump Room, or The Pump Station, is a location from Chapter 5: The Last Reel of Bendy and the Ink Machine. It is located within the giant Ink Machine.
Background
The Ink Machine pump station, as the name implies, pumps ink through the glass tubes within to keep the Ink Machine active and functional, serving as a central power core-of-sorts to keep the giant Ink Machine running to stabilize the other Ink Machine above it.
It is a massive chamber, with 4 projectors playing looped clips from Bendy cartoons on the walls. The final ink scrawling is written on a deactivated projector screen: "WHO'S LAUGHING NOW?" There are 4 wide dry cell-powered glass tubes pumping ink from the inky surface below the floor, which consists of a grated surface, with metallic panels to support the glass tubes. There is a valve on the wall, which activates the tubes, upon being interacted with.
Gameplay
After Henry turns the valve, Beast Bendy suddenly appears, and attacks Henry, who must destroy the newly-activated tubes by taunting Beast Bendy into destroying the valves, either with his talons or his head when he rams. In the case of the latter, Beast Bendy will briefly shake his head before turning his attention to Henry. When a glass tube is destroyed, ink will gush out at an alarming rate.
After all 4 tubes are destroyed, the room briefly turns off for a moment, before turning on. Upon the room turning on, Beast Bendy seemingly disappears, the ink stops leaking, the projectors stop running, and the music changes to the underscore of "The Ink Demon" track. A door on the far right suddenly opens, leading directly to Beast Bendy's throne room, where the End Reel can then be played and destroy the Ink Demon for good.
Map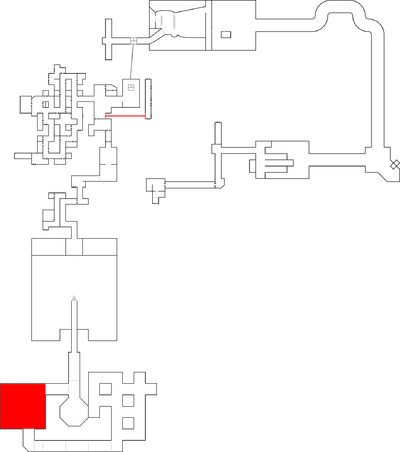 Gallery