"On the plus side, I got a new character I think people are going to love."
- Henry Stein
This article may contain unmarked details of
spoilers
. If you wish not to read without spoiling yourself, play the game, watch the cartoon, or read the book first, depending on the article's topic.
The Haunted House, also known as the Mad House, is the second last location in Storage 9 from Chapter 4 of Bendy and the Ink Machine
Background
It's a large house, as its name suggests, in Bendy Land. It has a roller coaster cart in front of the entrance along with an ink printing that says "TURN BACK". The rides goes through a dark tunnel, where the track is flanked by gravestones where ghosts and skeletons will pop out. There are creepy eyes painted on the walls and loudspeakers on the ceiling. There are also corpses of Strikers along gaps in the walls. It is unclear what lies past the ballroom, as Henry is blocked and thrown off the path by Brute Boris.
Gameplay
After pulling all the levers, Henry will restore power to the Haunted House, allowing him to ride the railway ride. As he rides, several ghosts and skeletons will pop out behind the gravestones, attempting to jump scare Henry. Twisted Alice will talk to Henry throughout the ride, the ride will then go to the ballroom, where Brute Boris will appear and attack Henry.
Trivia
Restoring the power for the Haunted House unlocks the "A Haunting We Will Go" achievement.
The Haunted House could be based on the Disney ride Haunted Mansion.

Further supporting this, a secret message that can found using the Seeing Tool says "There's no turning back now", which is one of the Ghost Host's quotes from the ride.
The disembodied eyes in the shadows also resemble a scene from the Haunted Mansion.

On Twitter, Bendy happens to call the cart in the Haunted House a basket, a reference to the basket in one of the Bendy episodes: Hell in a Hand Basket.[1]
When moving in the cart, if looking to the right one can see a boarded off area with Bendy's name on the sign.
Map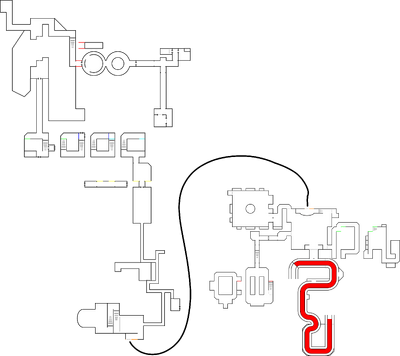 Audio
| Description | Audio |
| --- | --- |
| The sounds of the gate opening. | |
| The sounds of the house laughing. | |
| The sounds of the popups popping up. | |
Gallery
Reference
Community content is available under
CC-BY-SA
unless otherwise noted.