No Man's Sky Update - The Loop
Play Sound

"And if he really wants to be so helpful, he could be tellin' me what I'm to be doin' with this warehouse I got full of that angel whatchamacallit." - Shawn Flynn
The
Hall Closet
page does not have a canonical name. This name will be used until the official name is confirmed.
See Closet (disambiguation) or Hall (disambiguation) for other related uses.
"So I was going to get my dustpan from the hall closet the other day, and guess what? I can't find my stupid keys."
— Wally Franks' second audio log,
Bendy and the Ink Machine: Chapter 2
The Hall Closet,[1] also known as Janitor's Closet or Wally's Closet, is a location in Chapter 2 of Bendy and the Ink Machine.
Background
It is a small closet with three shelves. The middle shelf contains a cassette tape with a recording from Sammy Lawrence, some non-lighted candlesticks, a bowl of spheres, and four obtainable cans of Bacon Soup.
Gameplay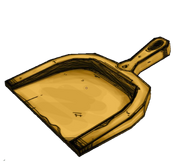 Wally Franks mentions in his second audio log that he cannot find his keys anywhere before opening the closet's door for the dustpan.
The closet can be only opened with a key which can be found from one of the garbage cans. After finding the keys and opening the closet beside Sammy's office, Henry will find a voice recording of Sammy Lawrence, which gives him a hint about the upcoming music puzzle.
Wally's dustpan is later stolen by Sammy Lawrence to use when hunting for Henry, as noticed when visiting the closet again after activating the pump switch from Sammy's office.
Trivia
In the old updates before the release of Chapter 4, the dustpan was not added yet.
Map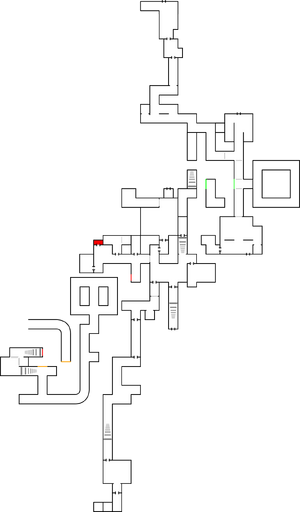 Gallery
References