"On the plus side, I got a new character I think people are going to love."
- Henry Stein
This article may contain unmarked details of
spoilers
. If you wish not to read without spoiling yourself, play the game, watch the cartoon, or read the book first, depending on the article's topic.
See Gent (disambiguation) or Office (disambiguation) for other related uses.
"Progress report to Gent Home Office. Client: Joey Drew Studios. Although we're making progress, the client's expectations keep changing. What started as a machine to simply mold life-size figures, now seems to be teetering on the edge of magic more than engineering. "
— Thomas Connor's audio log,
Bendy and the Ink Machine: Chapter 5
The Gent Home Office is a location in Chapter 5 of Bendy and the Ink Machine.
Background
The room itself houses the office of Thomas Connor, the studio's repairman and Gent liaison, to serve as a satellite work area for convenience, as well as the central piping system for the ink that flows throughout the studio.
The location is consistent with huge room and wooden block covered up the Gent entrance with a Bendy statue at the corner.
Gameplay
Henry has to insert thick ink that is found in the administration lobby area while trying to avoid the Butcher Gang (Piper, Fisher, and Striker) and insert it into the Ink Maker found in the Administration Lobby in order to make three pipes that will be inserted in the Gent Home Office that will drain the ink blocking the path to the Film Vault.
Once Henry does this, the ink will drain and he will be able to access the Film Vault.  
Map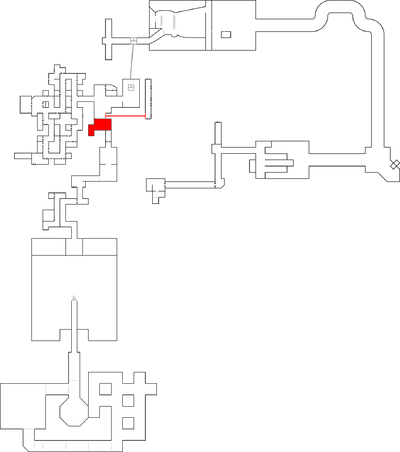 Gallery