"Take the lift down. Say hello to an old friend."
Be aware. This article may contain spoilers that remain unmarked! Details follow, so read at your own risk.
Gent
has other meanings. See Gent (disambiguation) for other uses.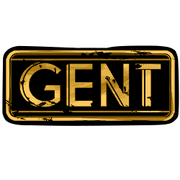 Gent, fully known as Gent Corporation,[1] is an establishment of Bendy and the Ink Machine, first mentioned in Thomas Connor's "ink output" schedule found in Chapter 1. Their name is first hinted in some of the items, machinery, and environments from Chapter 3 to 5. The company is known for publishing helpful tools and machines alike.
History
However there is nothing much about this company. Currently, the Gent founder's identity remains unknown. All it is known that the company is a sponsorship to the
animation studio
's "
Construction Corruption
" cartoon.
Employees
As of yet, there is only 1 known worker:
Thomas Connor (mechanic, repairman, and liaison for Joey Drew Studios)
Installments
Some of the known tools and machines are installed for Joey Drew Studios, including;
Ink Machine - The titular large machine that not only produces ink, but is powered by it, all the while being lowered into the depths.
Flashlight - A tool used while exploring in darker areas. It was usable in Chapter 3 and 4.
Pipe - A pipe. Its actual purpose was disclosed other than used as a weapon. It was equipped for Chapter 3 to 5.
Valve Panel - A panel consisting of three tubes filled with ink liquids. To make the lids unlockable for obtaining the valve cores, the ink's measurement from all each three tubes must reach to black circles in the middle. It was introduced for Chapter 3.
Elevator - The main transportation for Chapter 3. Its function is opening and closing the gates, along with transporting to different levels - Level K, Level 11, Level P, Level 9, Level 14, and Level S. It was usable for Chapter 3 but no longer in Chapter 4 due to its severe wrecked state from the fall.
Ink Maker - A machine requiring thick ink to create several items, such as a mug, gear, music radio, bone, Gent pipe, and the plunger. It was first introduced for Chapter 4.
Vaults - Seen in Chapter 4, the money vaults are used mainly for the archives and some other locations.
Barge - This machine only appears in Chapter 5. Being used as a boat, this machine is used by Henry to cross the Ink River. One of the machines is seen being destroyed by the Giant Bendy Hand during the ride in the river.
Hall Drainer - Appearing in the Gent Home Office in Chapter 5, this machines drains the flooded assuage to the Film Vault.
References