"Get out your pencils, pens, crayons and cooking utensils and select any of the official Bendy Fan Kit activities and crafts you feel like below. This is YOUR show, but don't forget to ask an adult if you need help. Fun awaits!"
— Description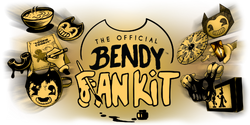 The Fan Kit is a free official Bendy bundle of activities, available from the site at Joey Drew Studios Inc.'s website. It was launched on April 14, 2020.
Features
Each activity and crafts come with free downloadable instructions.
| Name | Quote | Directions | Images |
| --- | --- | --- | --- |
| Ink Slime | "Who needs an Ink Machine when you can make your own icky ink slime?" | Create homemade ink slime. | |
| Shadow Puppet Theater | "Put on a show of shadows!" | Build a little puppet show box with cutouts of Bendy, Boris the Wolf, and Alice Angel. | |
| Animation Spinny Disk | "Watch in amazement as the ink flows in this animated experiment!" | Design a propeller toy. | |
| Delicious Bendy Recipes | "Cook up some Bendy favorites, including the all time classic, Bacon Soup!" | Make some Bendy-based recipes - Black Ink Mac and Cheese, Briar Label Bacon Soup, and Bendy Sugar Cookies. | |
| Bendy Origami | "Fold and crease your way to a big grin!" | Create a Bendy head-shaped origami. | |
| Bendy Poster Coloring Pages | "Color some posters your way! Who says you can only use yellow? Use ANY color you feel like!" | Color the posters of the Cookie Cookin, Snow Sillies, and Tombstone Picnic cartoon. | |
| Sammy's Mask | "Surprise someone and sing a snappy song as Sammy in this silly disguise!" | Create Sammy Lawrence's paper mask. | |
| Wallpaper Background | "'Bendify' your phone or desktop! Choose your size to download." | Download a wallpaper for the desktop or mobile devices. | |