"On the plus side, I got a new character I think people are going to love."
- Henry Stein
This article may contain unmarked details of
spoilers
. If you wish not to read without spoiling yourself, play the game, watch the cartoon, or read the book first, depending on the article's topic.

"And if he really wants to be so helpful, he could be tellin' me what I'm to be doin' with this warehouse I got full of that angel whatchamacallit." - Shawn Flynn
The
Divided Hallway
page does not have a canonical name. This name will be used until the official name is confirmed.
See Hall (disambiguation) for other related uses.
The Divided Hallway is one of the last locations in Chapter 5 of Bendy and the Ink Machine.
Background
The 2 empty hallways are divided by large windows. On the inaccessible side, there are several office doors, a "Lift" sign, and posters for "Hell Firefighter" and "The Dancing Demon". At the end of the hallway, "DEATH-->" is scrawled on the wall.
Gameplay
Henry, Allison Angel and Tom enter the hallway and stop when they see Ink Bendy walk past the window and into the darkness behind the window glass, before proceeding to the giant Ink Machine entrance for the showdown against the Ink Demon.
Trivia
Despite Allison's warning to stay quiet, waiting for Ink Bendy to pass by is not actually necessary. Henry can just run by the hallway and escape unharmed.
Map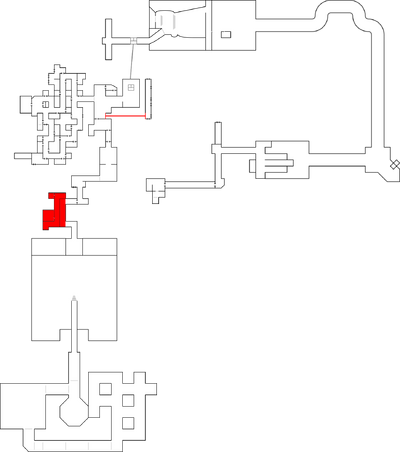 Gallery