"Thanks, Joey. Just what I needed. More distractions. These stupid cartoon songs don't write themselves, you know."
- Sammy Lawrence
This article is a
stub
. It is either incomplete with some lack of content and/or images, or under 1,000 bytes. You can help the
Bendy Wiki
by
expanding it
.
A series of freely distributed Bendy demos are published to help consumers thinking of a game before deciding whether to buy the full version and/or keep it.
Free Demo

A Bendy and the Ink Machine demo can be downloaded online in Itch.io for free. It is released shortly after all of the five chapters are completed for the full game.
The demo only includes the first chapter; Chapter 1: Moving Pictures. It takes over 10 minutes or less to complete the demo. Upon finishing the demo, the ending displays the screen message: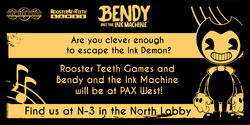 PAX West/East
Before the release of Chapter 4: Colossal Wonders , a demo of it was available at PAX West, although, the demo only lasted until when Henry pulled the first lever on the Research and Design room, where he would turn backwards, where Ink Bendy would catch him, and at that moment the demo would end.
Trivia
Before the release of Chapter 5: The Last Reel, the game was only available on Steam with Chapter 1 being available for free and all the others chapters being sold as DLC (downloadable content). This was replaced by the demo with the release of the final chapter.
Community content is available under
CC-BY-SA
unless otherwise noted.