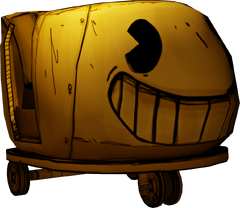 The coaster cart is one of the many sets of Bendy Land props and a ride for Chapter 4: Colossal Wonders of Bendy and the Ink Machine.
Description
It is a round-shaped theme park ride cart printed with Bendy's grinning face on the front of the hood. The cart consists of three small wheels underneath, a handlebar, and a seat designed for only one person to ride on.
Gameplay
While it was used for environments, one cart inside the Haunted House is used as a ride. Interacting with this cart allows Henry to ride on it, giving him access to the ballroom location. In the final phase of his battle with Henry, Brute Boris will throw these carts at him. Getting hit by a cart thrown by Brute Boris will instantly kill Henry and restart the whole fight again.
Also, sketches of the cart can be found in the planning room, in the Research and Design area.
Some sketches of the coaster carts can be seen in Joey Drew's apartment.
Audio
| Description | Audio |
| --- | --- |
| The sound of entering the Cart. | |
| The sound of the Cart starting. | |
| The looped sound of the Cart running. | |
| The sound of the Cart smashing. | |
Gallery
Community content is available under
CC-BY-SA
unless otherwise noted.