"Now that... is a beautiful, and positively silly thought."
- Joey Drew
This article contains sources that were
not canonical
as an official part of the
Bendy
series or the overall plotline.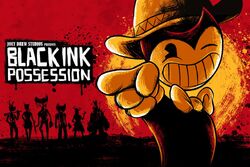 Black Ink Possession is a joke game shared by Joey Drew Studios Inc. on October 23, 2018.[1]
The "announcement" image was uploaded to show the comical coincidence that Bendy and the Ink Machine: Chapter 5 shares the same release date as Red Dead Redemption 2 - October 26, 2018. The image is heavily a spoof to the Red Dead Redemption 2 cover art, with Bendy posing as Arthur Morgan but he was using a finger-point instead of holding a revolver. The silhouettes of Tom, Allison Angel, Ink Bendy, Sammy Lawrence, Twisted Alice, and Brute Boris are also shown in the background.
The name of the image's artist is unknown as of now.
References
Community content is available under
CC-BY-SA
unless otherwise noted.