"Take the lift down. Say hello to an old friend."
Be aware. This article may contain spoilers that remain unmarked! Details follow, so read at your own risk.
Bendy
has other meanings. See Bendy (disambiguation) for other uses.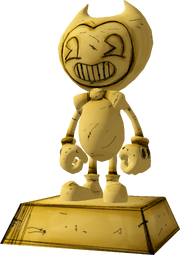 The
statue of Bendy
is an object-like mechanic first introduced in
Chapter 2
, and appearing from
Chapter 3
to
5
of
Bendy and the Ink Machine
. It serves as a respawning point after
Henry
dies.
Description
It is a stone-made statue of Bendy himself that is twice as tall as Henry. Dark ambient with various low whispering sounds are heard upon approaching one Bendy statue closer.
Those that do not act like respawning points but just as objects come in many different sizes; some are small while others appear surprisingly huge.
Gameplay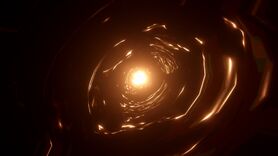 Whenever Henry gets killed by an enemy, he will respawn inside the mysterious tunnel made out of ink with whispering voices and a glowing light at the end. Making his way out will cause Henry to come directly out of the Bendy statue, back to in-game.
Trivia
Before the statue of Bendy is planned, the respawning pentagram is the first early respawn point introduced in the first release of Chapter 2 before Chapter 3's release.

Also, before the release of Chapter 4, the ink tunnel was not implemented yet, making Henry respawning in front of the statue instead, skipping the unmade ink tunnel.

Reversing the cryptic lines inside the ink tunnel before respawning out of the Bendy statue reveals Henry's lines from Chapter 1.
The respawning sequences of the tunnel is probably inspired by the Borderlands series, a franchise developed by Gearbox Software.
Audio
| Description | Audio |
| --- | --- |
| The sound produced when Henry respawns. | |
| The looped whispers and ambiance heard when in the death tunnel respawning. | |
Gallery