"Now that... is a beautiful, and positively silly thought."
- Joey Drew
This article contains sources that were
not canonical
as an official part of the
Bendy
series or the overall plotline.
See Bendy (disambiguation) for other related uses.
"It's time to believe! Uh oh! It looks like we got ourselves in a fight down at the studio! Battle as your favorite character in a free-for-all..."
— Joey Drew as the announcer.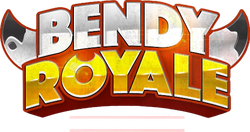 Bendy Royale, also known as Bendy Royale: Season One, is an April Fool's prank made by Joey Drew Studios Inc. on April 1, 2020.
Gameplay
Revealed in the trailer, the game itself was meant to be a battle royale-type fighting game, consisting of Bendy and the Ink Machine characters as playable fighters. The characters include:
At the end of the trailer, however, the game literally turns out as an April Fool's joke and confirmed that the game will not officially happen as it was only made for fun.
Trivia
The game's content and logo is clearly a parody of the game Fortnite Battle Royale.
As theMeatly enjoyed his time writing music for the Bendy Royale trailer video, theMeatly confirms he will upload a full trailer music soon.[2]
Brute Boris holding a minigun-like weapon from the video is a reminiscent to the Heavy, a character from Team Fortress 2.
Bendy's slide is merely a cutout surrounded by heavy weapons and explosive rounds.
Wally from the video is comically depicted as an audio log taped with a carving dagger and a Bendy fan hat.
Ink Bendy appears to be wearing a black suit.
Gallery
Videos
References
Community content is available under
CC-BY-SA
unless otherwise noted.