See Bendy (disambiguation) for other related uses.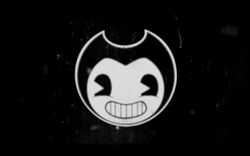 The series of Bendy's cartoons is a fictional rubberhose animation show initially created by the crew members of the American animation company Joey Drew Studios, first debuting as early as 1929 since the studio's establishment. The show ran before the discontinuation, revealed in Bendy and the Ink Machine. The show was presented in its film process Sillyvision,[1] and as seen from numerous posters and currently six published animated shorts, the show contains at least thirty episodes shown so far to the public knowledge. Only the episode, "The End", was never shown but is only used against Beast Bendy as his weakness in Bendy and the Ink Machine.
The show featured every known character so far - Bendy, Boris the Wolf, Alice Angel, and the Butcher Gang members (Barley, Charley, and Edgar). Minor characters include the skeleton character, a snowman, and a cookie. According to Susie Campbell, there are other characters that were not seen, including "talking chairs" and "dancing chickens".[2]
Episodes
This is a list of cartoons that have never received their animations yet, other than four animation shorts along with the number of scene clips based on the posters found in Chapter 5 of Bendy and the Ink Machine.
1920s
1930s
Unknown Date
Trivia
References
↑ "Correct! 'Sillyvision' is the film process, not the studio. ;)" - Bookpast, October 17, 2017. Twitter.
↑ "These past few weeks I have voiced everything from talking chairs to dancing chickens. But this is the first character I have really felt a connection with. Like she's as a part of me." - Susie Campbell, Chapter 2
↑ "Another oldie "The Dancing Demon" was recently re-released (along with many other of our of our classics) in concert with the US government in an effort to raise sales on war bonds." - Joey Drew Studios Employee Handbook
Community content is available under
CC-BY-SA
unless otherwise noted.