See Bendy (disambiguation) for other related uses.

"Thanks, Joey. Just what I needed. More distractions. These stupid cartoon songs don't write themselves, you know."
- Sammy Lawrence
This article is a
stub
. It is either incomplete with some lack of content and/or images, or under 1,000 bytes. You can help the
Bendy Wiki
by
expanding it
.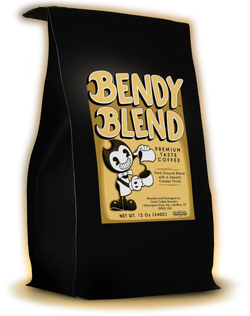 "Have a little Bendy in your morning (or afternoon, or evening, or whenever) with our BRAND NEW specialty coffee! This is a dark ground blend with a smooth, creamy finish made special just for Bendy fans."
— Website summary.
The Bendy Blend is a coffee product released by Joey Drew Studios Inc. with the coffee company "The Grind Roasters". First announced on September 23, 2020,[1] the product became available from the official website on September 28th for only a limited time, although only currently exclusive in North America.[2][3] Couple of hours later, surprisingly enough, they were ultimately sold out but the next batch is intended to be released.[4]
The Bendy Blend also comes with a limited edition sticker in every purchase.
Gallery
References