Raise a Floppa - The Loop
Play Sound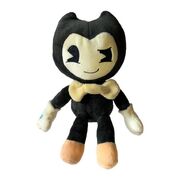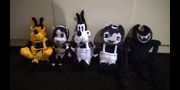 Beanie plush dolls are toys sold in official online store as well as other stores both online and in public.
The main plush toyline currently consists of Bendy, Boris the Wolf, Alice Angel, Charley, Barley, Edgar, and Ink Bendy. A "heavenly edition" version of the popular cartoon trio, based on the in-game dolls seen in Bendy and the Ink Machine, is also available. The Bendy and the Dark Revival toyline consists of Audrey, Sammy, and "Perfect" Bendy. The Blacklight toyline consists of blacklight versions of Bendy, Boris the Wolf, Alice Angel, and Ink Bendy. There are black and yellow versions of Bendy, Ink Bendy and a Hot Topic Exclusive of Dead Boris. (Not to be confused with the Heavenly Toys edition) There appears to be five more plushes coming out soon (they are as follows: Beast Bendy, Allison Angel, Tom, Brute Boris and Sammy). They were shown at E3 2019 by popular toy reviewer, Puppet Steve. Plush toys are also available in Bendy in Nightmare Run, via In-App Shop.
A new "Sillyvision" plush toy sets are released on April 14th, 2021 and exclusively available at the official online store. Series 1 consists of Boris, Sammy Lawrence, Ink Bendy and Bemused Bendy. This is the first time Bendy and Boris have colors other than black-and-white or sepia-tinted besides the Blacklight toyline
New sets of plushies were released, following the sillyvision plushies, and a new colored tint of Bemused Bendy.
Giant Plush Giveaway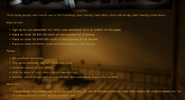 In December of 2019 there was a giant plush giveaway where Epic Drops was giving away giant plush (bigger than the jumbo plush) of Bendy, Ink Bendy, Boris the Wolf, Alice Angel, and Sammy. The way to enter was to get entries from doing certain things:
Signing up for their newsletter: 1 entry
Spending $50-$99 on merchandise: 10 entries
Spending $100 -$199 on merchandise: 50 entries
Spending $200 or more on merchandise: 100 entries
After people complaining that it was unfair that you would have to spend a lot of money to have a good chance of winning, it was later shut down. Since Joey Drew Studios Inc. isn't in charge of the merchandise and just advertise it, they distanced themselves from the giveaway and said that they had nothing to do with it and Epic Drops was in charge of it.
Early Prototypes of The Blacklight Plushies
Before the official Blacklight Plushies were released, there was a picture of a shelf of PhatMojo toys of different franchises and in the Bendy part of the shelf, there was a whole box of different Bendy characters in their blacklight versions. Even characters that their black/white/yellow plush wasn't released yet like Beast Bendy, Brute Boris, and Tom. Some of the characters had different colors than their final blacklight plush form, like Alice's plush. Her final blacklight plush form has purple hair, yellow skin, pink halo and horns, pink eyes, beauty mark and mouth, green dress, pink bowtie, and blue gloves and shoes. Her prototype had blue hair, pink skin, yellow halo and horns. yellow eyes beauty mark and mouth, blue dress, yellow bowtie, and pink gloves. The box was covering her lower body, so the color of her shoes wasn't visible but to believed to be pink to match her gloves like her gloves matched her shoes in her final blacklight plush form. If there was a wave two of Blacklight plush, there could be more than one of the same character with different colors like the Five Nights At Freddys's Blacklight plush had different colored Freddys and Foxys.
The box showed blacklight versions of:
Alice Angel
Bendy
Beast Bendy
A pair of ears visible behind Beast Bendy belonging to a Boris the Wolf or Tom
A halo visible behind Beast Bendy belonging to another Alice or Allison Angel
Edgar
Tom
Barley,
Brute Boris,
A pair of horns behind Brute Boris belonging to another Bendy or Ink Bendy
Since it is unknown when or if ever the Beast Bendy, Brute Boris, Allison Angel, Tom, and black and white Sammy plush that was shown at E3 2019 will be released, it is unknown if we will see these prototypes in a wave two of Blacklight Plush
Trivia
When the first few shipments of the original Bendy, Boris, and Alice plush were sold, they squeaked like the Bendy Doll in Bendy and the Ink Machine when Henry collected or interacted with it. Unfortunately, the rest of the shipments being sold in the present plus the plush sold in stores like Hot Topic and GameStop don't have squeakers inside them.
Before the first 3 plush were available for pre-order, their pictures on the Official Bendy Store were black and white versions of the Bendy, Boris, and Alice doll models in the game.
The giant plush from the giveaway are valued at $500 ($100 per plush; 5 to be won)
The Dead Boris plush is the only plush that is not sold on the Official Bendy Store, but rather an in-store exclusive to public stores such as Hot Topic, GameStop, Walmart, and others.

In 2019, Reddit user u/_x_sxlvxr_x_ made a post about finding a defective Ink Bendy plush with an upside down face in Walmart
The black and yellow versions of Bendy and Ink Bendy were only available for a limited time and went away after Christmas 2020
On May 22, Beaming Bendy in the SillyVision Plush series 1 was replaced by Ink Bendy.
List
Basic
| Store | Price |
| --- | --- |
| Official Bendy store | $16.99 |
| Hot Topic | $14.90 |
| GameStop | $14.99 |
| Walmart | $11.97 |
Jumbo
| Store | Price |
| --- | --- |
| Official Bendy store | $29.99 |
Bundle
| Store | Price |
| --- | --- |
| Official Bendy store | $50.97 |
Giant
| Store | Price |
| --- | --- |
| Official Bendy store | Valued to be over $100 per plush but free from the giveaway |
Gallery