"On the plus side, I got a new character I think people are going to love."
- Henry Stein
This article may contain unmarked details of
spoilers
. If you wish not to read without spoiling yourself, play the game, watch the cartoon, or read the book first, depending on the article's topic.
The Ballroom is the second part of the Haunted House and the final location in Chapter 4 of Bendy and the Ink Machine.
Background
The ballroom was merely built as decoration to give the Mad House ride for Bendy Land a proper haunted house atmosphere.
It is a circular room with a chandelier, eerie paintings, some Bacon Soup, barrels, flashlights, toolboxes and sandbags. There is an Ink Maker that can create cups, gears, Gent pipes, plungers, and bones.
Gameplay
When riding through the Haunted House, Henry will eventually reach the ballroom and simply drive around it. However, shortly after leaving it, Henry will go into a dark room, where Brute Boris will grab the cart and throw it onto a wall, and then the boss fight will start. Brute Boris can easily pass through most of the objects in the room, destroying them. Carts will also occasionally pass through the ballroom, which Brute Boris will throw at Henry.
After the fight with Brute Boris, he will fall to the floor and dissolve into the ink. Twisted Alice will emerge, running out of the gate, screeching angrily, and waving her arms erratically as she does so. Just before she reaches Henry, she gets quickly impaled by Allison Angel using the sword. Henry will look at the fallen angel and then at Allison to see that Tom is next to her as the chapter ends.
Trivia
As the Haunted House is influenced by the Haunted Mansion from Disney parks, the ballroom may also resemble the Haunted Mansion's Grand Hall. Along with this the paintings on the wall somewhat resemble those found in the mansion.
According to theMeatly on Twitter, making the paintings for the ballroom was one of his favorite things to work on during Chapter 4's production.[1]
The Archives chapter is a modification of the ballroom
Map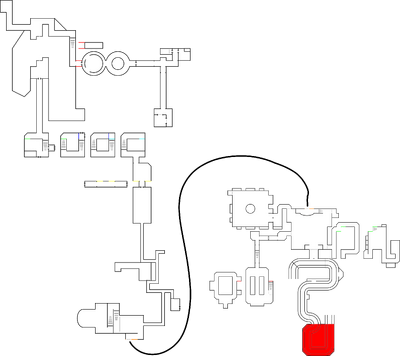 Gallery
References