See Bacon Soup (disambiguation) or Soup (disambiguation) for other related uses.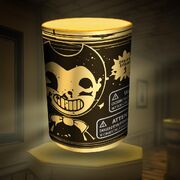 Bacon Soup packages are toy products that are available in a few stores such as GameStop, costing $6.99. Each product includes a Bendy character mini figure and comes with the exclusive in-game codes for Bendy in Nightmare Run's "DLC" (also with the "1 in 18 chance" rare code).
The Series 1 line respectively includes the devious Bendy, Twisted Alice, Boris the Wolf playing a clarinet, Fisher, Striker, Piper, Sammy Lawrence, the Projectionist, and a rare gold Bendy.
Gallery