No Man's Sky Update - The Loop
Play Sound
The Administration Maze is a maze-like location in Chapter 5 of Bendy and the Ink Machine.
Background
The Administrative division was where the studio executives and Joey Drew mainly worked. The general public and other workers occasionally scheduled appointments to meet with Joey himself for such purposes as discussions and pitch meetings.
The administration staff was also charged with vital functions which include the following: Keeping the company well stocked with supplies needed by the other departments, acting as mediator between accounting and different departments to come to a healthy promise on all budgetary concerns, processing job postings, new hires, and keeping current employees content with their role at the studio, liaising with external companies(including the Gent Corporation and Briar Label Co.), and exploring new avenues to incorporate partnership, and managing paperwork and developing methods to make the studio employees more productive.
It consists of a maze-like area with multiple doors in every hall. Some doors lead to nothing while a few have an audio log located inside.
Gameplay
Within this maze location, Henry must collect thick ink to put in the Ink Maker that will make 3 pipes in order to drain the path to the Film Vault. While doing this, Henry will need to avoid the Butcher Gang (Piper, Fisher, Striker) enemies as they will chase him. If noticed, Henry will need to hide in the Little Miracle Station that is located in the administration lobby or let them die due to Ink Bendy's arrival after using the Ink Maker to make the first pipe.
After Henry makes all three pipes, he is supposed to take them to the Gent Home Office where the player connects them in the correct place. After this is done, the ink covering the path to the Film Vault drains and then the Film Vault becomes accessible, allowing Henry to continue to his next objective.
Trivia
If the player tries to lead at least one of the Butcher Gang members to the Film Vault after the path is drained, the member(s) will not follow but mysteriously disappear.
This is the only location to feature glass-paned doors.
Map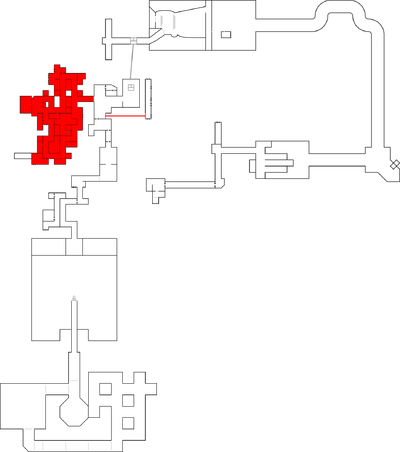 Gallery