No Man's Sky Update - The Loop
Play Sound
The Administration Lobby is a location in Chapter 5 of Bendy and the Ink Machine.
Background
This is where those who had scheduled an appointment to meet with Joey Drew or another executive member would wait until said executive was ready to speak to the individual(s) in question.
This is the location where Henry falls after stepping onto the broken board within the unfinished hallway.
After plugging the first pipe, Ink Bendy will appear on the balcony. Oddly, he won't chase Henry. Note that the Butcher Gang enemies will still die if they are in the same location while going after Henry when Ink Bendy's aura is present.
Gameplay
Henry falls into this area after walking into the decrepit hallway. Here he must pull one switch to open the gate that takes to the administration maze. After taking the thick ink, Henry has to return here to put it into the Ink Maker to create three pipes that can drain the ink from the Film Vault passage.
Trivia
The schedule board has several references:

F. Fontaine is a reference to Frank Fontaine from Bioshock.
Hayden - UAC references Samuel Hayden from Doom 2016.
M.M. is a reference to Mike Mood.
That Puppet Guy is a reference to theMeatly himself.
Charles and the prodigies is a reference to the theorist YouTuber ProdCharles.
Dr. Hackenbush is a reference to the character of the same name from the Marx Brothers film A Day at the Races.
E. Misner is a reference to Michael Eisner.

The notice board next to the schedule implies that visitors were not restricted from the studio itself, provided that they had a specific reason for being there. The lobby itself only helps prove this.
For some strange reason, there is no stairway or elevator that leads to the Administration offices, even though we know that multiple employees had been down there before. The only known entrance to the offices is by falling through the floor past the Lost Harbor.
Map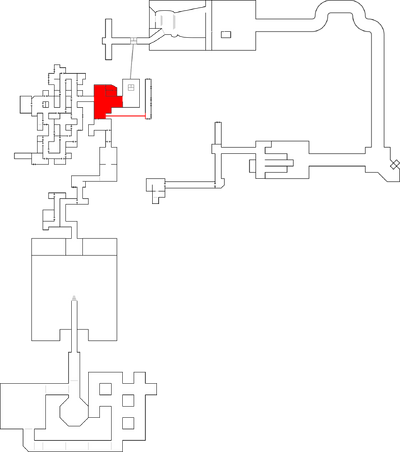 Gallery